Philadelphia Experiment, The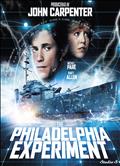 Svensk titel: Philadelphia Experiment, The
Originaltitel: The Philadelphia Experiment
Speltid (min): 102
Release (Bio): 1984-10-05
Release (Blu-ray/DVD): 2021-02-22
Tagline: Will you survive?
Handling
1943 inleder den amerikanska flottan en serie topphemliga experiment som ska göra fartygen osynliga för fiendens radar. Men något går fruktansvärt fel. Slagskeppet USS Eldridge försvinner inte bara från radarn - det försvinner helt och hållet! Två unga soldater hinner hoppa överbord och transporteras genom ett elektriskt magnetfält 41 år fram i tiden. Förvirrade och fast i framtiden måste de stoppa det tidshål som öppnats i atmosfären och som kan tillintetgöra hel världen...
Medverkande
Michael Paré - Skådespelare - David Herdeg
Nancy Allen - Skådespelare - Allison Hayes
Eric Christmas - Skådespelare - Dr. James Longstreet
Bobby Di Cicco - Skådespelare - Jim Parker
Louise Latham - Skådespelare - Pamela
Kene Holliday - Skådespelare - Major Clark
Joe Dorsey - Skådespelare - Sheriff Bates
Michael Currie - Skådespelare - Magnussen
Stephen Tobolowsky - Skådespelare - Barney
Gary Brockette - Skådespelare - Adjutant / Andrews
Debra Troyer - Skådespelare - Young Pamela
Miles McNamara - Skådespelare - Young Longstreet
Don Dolan - Skådespelare - Driver
William Hoy - Editor
Joel B. Michaels - Producer
Neil Travis - Editor
Michael LaViolette - Electrician
Philip Sloan - Best Boy Grip
John Carpenter - Executive Producer
Edward 'Tantar' LeViseur - Grip
Paul Elliott - First Assistant Camera
Douglas Curtis - Producer
Jeffrey Chernov - First Assistant Director
Don Jakoby - Story
Dick Bush - Director of Photography
Stewart Raffill - Director
Terry Kelley - Assistant Editor
Charles Berlitz - Novel
William L. Moore - Novel
William Gray - Screenplay
Michael Janover - Screenplay
Kenneth Wannberg - Original Music Composer
Jeff 'Moose' Howery - Best Boy Grip
Bobby Huber - Electrician
Robert Hayes - Camera Operator
Wallace C. Bennett - Story
Robert Gravenor - Sound Mixer
Linda Francis - Casting
Joseph Raffill - Location Manager
John K. Adams - Supervising Sound Editor
Roger Olkowski - Gaffer
Steven Finestone - Second Assistant Camera
Billy Ray Smith - Production Manager
David Lewis Yewdall - Sound Designer
John Post - Foley Artist
Joseph A. Liuzzi - Location Manager
Cate Praggastis - Casting
Al Ebner - Unit Publicist
Bill Cornford - Construction Coordinator
Devon Heffley Curry - ADR & Dubbing
Steve Rice - Dialogue Editor
Barbara J. Boguski - ADR & Dubbing
M.J. Elliott - Still Photographer
Annie Maniscalco - Makeup Artist
Jeff Greenberg - Casting Assistant
Michael Paris - Still Photographer
Charles Ewing Smith - Sound Effects
Alan Brownstein - Electrician
Coni Lancaster - Production Coordinator
Ron McCausland - Key Grip
Chris Campbell - Art Direction
Douy Swofford - Title Designer
Steve Rhea - Location Manager
Michael Stocks - Grip
David Michels - Grip
Arthur Tostado - Color Timer
Gary Louzon - Assistant Camera
John D. Sarviss - Pilot
Paul Hauser - Electrician
Diane Campbell - Set Decoration
Joanna Palace - Costume Design
Joe Giannone - Hairstylist
Robert Marcus - Carpenter
Brit Babcock - Lead Set Dresser
Eric Handel - Lead Set Dresser
Lee Berglund - Property Master
Ben Hausing - Best Boy Electric
Wayne Stroud - Best Boy Electric
Robert McClure - Best Boy Electric
Michael Bolner - Electrician
Garfield Burke - Electrician
Vincent Contarino - Electrician
Ron Sky - Electrician
Nick Cline - Electrician
Bryan Clifton - Electrician
Victor Kloster - Generator Operator
Victor Kloster - Genetator Operator
Dylan Shephard - Grip
Scott Prescott - Grip
Norman Fightmaster - Grip
Gary Towles - Extras Casting Assistant
Steve Lepre - Wardrobe Assistant
Marydith Chase - Wardrobe Assistant
Reggie Jackson - Location Manager
John R. Harris - Music Editor
James T. Burns - Boom Operator
Duane Hensel - Foley Artist
Dick Le Grand - Sound Effects
Rudy Daniels - Craft Service
Lawrence Doll - Pilot
Jamie Arbuckle - Production Assistant
Bob Blongiewicz - Production Assistant
Brent Bowman - Production Assistant
Eric Johnson - Production Assistant
Phil Strauss - Production Assistant
Randy Stricklin - Production Assistant
Catherine Davis - Production Assistant
Randall L. Crocker - Production Assistant
Gerald North - Production Assistant
Teresa Thomas - Production Secretary
Susan Sinclair - Production Secretary
Tonya Neff - Production Secretary
Recensioner