Raya och den sista draken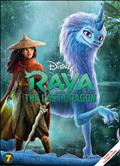 Svensk titel: Raya och den sista draken
Originaltitel: Raya and the Last Dragon
Speltid (min): 107
Release (Bio): 2021-03-05
Release (Blu-ray/DVD): 2021-05-18
Release (Streaming): 2021-03-05
Streamingplattform: Disney + Premium Access
Tagline: A quest to save her world.
Handling
För länge sedan i fantasivärlden Kumandra, levde människor och drakar tillsammans i harmoni. Men när onda monster, kända som Druuner, hotade landet offrade drakarna sig för att rädda mänskligheten. Nu 500 år senare har monstren återvänt och det är upp till en ensam krigare, Raya, att leta reda på den sista draken för att kunna stoppa Druunerna för alltid. Men hon får snart lära sig att det behövs mer än drakmagi för att rädda världen – man behöver kunna lita på varandra också.
Medverkande
Kelly Marie Tran - Skådespelare - Raya (voice)
Awkwafina - Skådespelare - Sisu (voice)
Izaac Wang - Skådespelare - Boun (voice)
Gemma Chan - Skådespelare - Namaari (voice)
Daniel Dae Kim - Skådespelare - Benja (voice)
Benedict Wong - Skådespelare - Tong (voice)
Jona Xiao - Skådespelare - Young Namaari
Sandra Oh - Skådespelare - Virana (voice)
Thalia Tran - Skådespelare - Little Noi (voice)
Lucille Soong - Skådespelare - Dang Hu (voice)
Alan Tudyk - Skådespelare - Tuk Tuk (voice)
Dichen Lachman - Skådespelare - General Atitaya, Spine Warrior (voice)
Patti Harrison - Skådespelare - Tail Chief (voice)
Sung Kang - Skådespelare - Dang Hai (voice)
Ross Butler - Skådespelare - Spine Chief (voice)
François Chau - Skådespelare - Wahn (voice)
Paul Yen - Skådespelare - Merchant #1 (voice)
James Newton Howard - Original Music Composer
Fabienne Rawley - Editor
Peter Del Vecho - Producer
Paul A. Felix - Production Design
Jamie Sparer Roberts - Casting
Don Hall - Director
Don Hall - Story
Shannon Stein - Editor
Kiel Murray - Story
Osnat Shurer - Producer
Jennifer Lee - Executive Producer
Adele Lim - Screenplay
Adele Lim - Story
Avneet Kaur - Simulation & Effects Artist
Jared Bush - Executive Producer
Paul Briggs - Story
Paul Briggs - Co-Director
Larry Wu - Head of Layout
Dean Wellins - Story
Kyle Odermatt - Visual Effects Supervisor
Eric Provan - Modelling Supervisor
Jennifer Christine Vera - Associate Producer
Adolph Lusinsky - Lighting Director
Rob Dressel - Director of Photography
Malcon Pierce - Head of Animation
Amy Lawson Smeed - Head of Animation
Qui Nguyen - Screenplay
Qui Nguyen - Story
Ami Thompson - Art Direction
Carlos López Estrada - Director
Carlos López Estrada - Story
Nathan Curtis - Associate Producer
Albert Ramirez - Production Manager
Cory Loftis - Production Design
Hubert Leo - Animation Supervisor
Kate Kirby-O'Connell - Animation Supervisor
John Ripa - Story
John Ripa - Co-Director
Carlos Cabral - Character Technical Supervisor
Michael Kaschalk - Effects Supervisor
Christopher Hendryx - Effects Supervisor
Marc Henry Bryant - Effects Supervisor
Nikki Mull - Character Modelling Supervisor
Walter Yoder - Rigging Supervisor
Benjamin Min Huang - Painter
Adil Mustafabekov - Sets & Props Supervisor
Fawn Veerasunthorn - Head of Story
Helen Mingjue Chen - Production Design
Shiyoon Kim - Art Direction
Kelsey Hurley - Technical Supervisor
Dale Mayeda - Effects Supervisor
Alena Loftis - Character Modelling Supervisor
Recensioner