Many Saints of Newark, The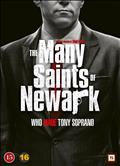 Svensk titel: Many Saints of Newark, The
Originaltitel: The Many Saints of Newark
Speltid (min): 120
Release (Bio): 2021-10-15
Release (Blu-ray/DVD): 2022-01-17
Tagline: Who made Tony Soprano?
Handling
Prequel-filmen till klassiska maffiaserien "The Sopranos" utspelar sig i 1960-talets Newark. Den unga Anthony Soprano växer upp under en av de mest omvälvande tidsperioderna i Newarks historia. Samtidigt som han håller på att bli en man, börjar rivaliserande gangsters utmana den allsmäktiga och kriminella familjen DiMeo. Han idoliserar sin farbror Dickie Moltisanti, som kämpar med att hantera både sitt professionella och personliga ansvar under de föränderliga tiderna.
Medverkande
Alessandro Nivola - Skådespelare - Dickie Moltisanti
Leslie Odom Jr. - Skådespelare - Harold McBrayer
Michael Gandolfini - Skådespelare - Teenage Tony Soprano
Ray Liotta - Skådespelare - "Hollywood Dick" Moltisanti / Salvatore "Sally" Moltisanti
Michela De Rossi - Skådespelare - Giuseppina Moltisanti
Vera Farmiga - Skådespelare - Livia Soprano
Corey Stoll - Skådespelare - Junior Soprano
Jon Bernthal - Skådespelare - Johnny Soprano
Billy Magnussen - Skådespelare - Paulie Walnuts
John Magaro - Skådespelare - Silvio Dante
Talia Balsam - Skådespelare - Mrs. Jarecki
Patina Miller - Skådespelare - Queen Isola
Joey Diaz - Skådespelare - Buddha
Germar Terrell Gardner - Skådespelare - Cyril
Michael Imperioli - Skådespelare - Christopher Moltisanti (voice)
Samson Moeakiola - Skådespelare - Pussy Bonpensiero
Alexandra Intrator - Skådespelare - Teenage Janice Soprano
Gabriella Piazza - Skådespelare - Joanne Moltisanti
Mason Bleu - Skådespelare - Leon Overall
Aaron Joshua - Skådespelare - Jaleel
Lesli Margherita - Skådespelare - Iris Balducci
Kathryn Kates - Skådespelare - Angie DeCarlo
Nick Vallelonga - Skådespelare - Carmine Cotuso
Ed Marinaro - Skådespelare - Jilly Ruffalo
William Ludwig - Skådespelare - Young Tony Soprano
Mattea Conforti - Skådespelare - Young Janice Soprano
Matteo Russo - Skådespelare - Young Artie Bucco
Robert Vincent Montano - Skådespelare - Teenage Artie Bucco
Chase Vacnin - Skådespelare - Teenage Jackie Aprile
Rob Colletti - Skådespelare - Julie DeRogatis
De'Jon Watts - Skådespelare - Landers
Nick DeMatteo - Skådespelare - Guitarist
Matt Grossman - Skådespelare - Drummer
Chris LaPanta - Skådespelare - Army Recruiter
Patricia Squire - Skådespelare - Old Auntie
Amelia Fowler - Skådespelare - Candy Store Nurse
Prema Cruz - Skådespelare - Wynetta
Maliq Johnson - Skådespelare - Kevin
Sam Labovitz - Skådespelare - Bruno
Daryl Edwards - Skådespelare - Julius
Matthew Elam - Skådespelare - Ray Ray
Anthony Angelo Pizza, Jr. - Skådespelare - Catholic School Boy
Audrey Bennett - Skådespelare - Catholic School Girl
Nicola Gabriele - Skådespelare - Club Waiter
Spenser Granese - Skådespelare - Man in the Cowboy Hat
Michael Zegarski - Skådespelare - Funeral Director
Michael Kaves - Skådespelare - Funeral Wiseguy #1
Vinnie Costanza - Skådespelare - Teenage Boy
Ian Unterman - Skådespelare - Softball Parent #1
Lizzy Plimpton - Skådespelare - Softball Parent #2
Erik Weiner - Skådespelare - Teacher
Alex Morf - Skådespelare - Police HQ Copper
Bryce Burke - Skådespelare - Ice Cream Truck Driver
Joel Boyd - Skådespelare - Activist On Stage
William Youmans - Skådespelare - Judge Lambert
Andrew Polk - Skådespelare - Taxi Passenger
Ohene Cornelius - Skådespelare - Taxi Driver
Craig Geraghty - Skådespelare - Soprano Kids Copper
Nygel Bush - Skådespelare - Fallen Son
Carrie Compere - Skådespelare - Crying Mother
Oberon K.A. Adjepong - Skådespelare - Frank Lucas
Lexie Foley - Skådespelare - Barbara Soprano
Phyllis Pastore - Skådespelare - Aunt Concetta
Tatienne Hendricks-Tellefsen - Skådespelare - Paulie's Goomar
Ayodele Olatunji - Skådespelare - Tabernacle Band #1
CJ Fly - Skådespelare - Tabernacle Band #2
Dessy Hinds - Skådespelare - Tabernacle Band #3
Laurie Sheppard - Skådespelare - Building Manager
Marianne Ferrari - Skådespelare - Female Neighbor
Julian Lerner - Skådespelare - Rico (Tony's Friend)
Stella Chivee - Skådespelare - Frank Lucas' Daughter
Louis Vanaria - Skådespelare - Wise Guy
Latoya Edwards - Skådespelare - Frank Lucas' Girlfriend
John Borras - Skådespelare - Bishop
Jodi Capeless - Skådespelare - Aunt Gemma
Lauren DiMario - Skådespelare - Teenage Carmela De Angelis
Danny Schoch - Skådespelare - Chickie Sasso (uncredited)
Lawrence Konner - Producer
Lawrence Konner - Writer
Christopher Tellefsen - Editor
Laura Ballinger - Supervising Art Director
Douglas Aibel - Casting
Tami Treadwell - ADR Mixer
Goro Koyama - Foley Artist
Toby Emmerich - Executive Producer
Marcus Viscidi - Executive Producer
Marcus Viscidi - Unit Production Manager
Kramer Morgenthau - Director of Photography
Richard Brener - Executive Producer
Alan Taylor - Director
Wyatt Sprague - Sound Effects Editor
Derrick Simmons - Stunts
David Chase - Producer
David Chase - Characters
David Chase - Writer
Douglas Crosby - Stunts
Peter Epstein - Stunts
Carl Paoli - Stunts
Christopher Place - Stunts
John Cenatiempo - Stunts
Christopher Heikel - Lighting Technician
Susan Jacobs - Music Supervisor
Regina Graves - Set Decoration
Bobby Beckles - Stunts
Aaron Vexler - Stunts
Nicki Ledermann - Makeup Department Head
G. A. Aguilar - Stunt Coordinator
Ana Lombardo - Set Dresser
Mariusz Kubicki - Stunts
Airon Armstrong - Stunts
Michael McMenomy - ADR Editor
Amy Westcott - Costume Design
George B. Colucci Jr. - Stunts
Atilla Salih Yücer - First Assistant Director
Michael Heathcote - Steadicam Operator
Michael Heathcote - "A" Camera Operator
Rick Le Fevour - Stunts
Jerry Popolis - Key Hair Stylist
Sandra Fox - Foley Artist
Evan Dane Taylor - Stunts
Jac Rubenstein - Dialogue Editor
Alexa Zimmerman - Dialogue Editor
Michael Jortner - Property Master
Rumiko Ishii - Assistant Art Director
Michael Disco - Executive Producer
Matthew Jeffrey Sama - Conceptual Illustrator
Tom Fleischman - Sound Re-Recording Mixer
Dan-ah Kim - Assistant Art Director
Colleen Bachman - Visual Effects Producer
Dan Schrecker - Visual Effects Supervisor
Sunday Englis - Key Makeup Artist
Patrick Cicero - Sound Effects Editor
Annette Kudrak - Music Editor
Bob Shaw - Production Design
Dave Zeevalk - Visual Effects Supervisor
David Rogow - First Assistant Editor
Johann Kunz - Special Effects Supervisor
Victor Paguia - Stunts
Kevin Michael Murphy - Stunts
Rebecca Breckel - Script Supervisor
Paul Urmson - Supervising Sound Editor
Paul Urmson - Sound Re-Recording Mixer
Peter Bulavinetz - Key Grip
Tom Percarpio - Rigging Gaffer
Igor Nikolic - Foley Editor
Sarah Maine - Set Decoration Buyer
Aja Frary - Stunts
Mark Fichera - Stunts
Rick Chefalas - Assistant Sound Editor
Samantha Dyer - Unit Production Manager
Chris Cenatiempo - Stunts
Caroline Vexler - Stunts
Josh Lakatos - Stunts
Justin Clarke - Stunts
Frank Bal - Stunts
Sean Flanigan - Hair Department Head
Stephen Izzi - Stunts
Thomas La Marche - Stunts
Paul Koronkiewicz - Boom Operator
Norman Douglass - Stunts
Timothy Metzger - Leadman
Floyd Anthony Johns Jr. - Stunts
Kevin Schultz - Foley Mixer
Anthony Mecca - Stunts
Drew Verderame - Grip
Malcolm C. Murray - Stunts
Sean Sheridan - Chief Lighting Technician
Audra Gorman - Location Manager
Dan Decelle - Set Dresser
Roman Greller - Set Dresser
Candis Heiland - Set Dresser
John M. Souto - Special Effects
Joe Taglairino - Set Dresser
Katherine Soares - Visual Effects Producer
Lidia Tamplenizza - Supervising Dialogue Editor
Stayc St. Onge - Makeup Artist
Matt Kushner - VFX Artist
Mathew Kent Lee - Assistant Costume Designer
Nikki Brower - Stunts
Jake Eavey - Stunts
Thomas Place - Stunts
Jan McLaughlin - Sound Mixer
Brendan Jamieson O'Brien - Boom Operator
Gaetano LoGiudice - Stunts
Christopher Parker - Stunts
Jénel Stevens - Stunts
Zachary Vesely - Visual Effects Producer
Miccah Underwood - Art Department Coordinator
Wendy Yang - Assistant Costume Designer
Jack Deutchman - Post Production Supervisor
Tania Ribalow - Key Makeup Artist
Alyma Dorsey - Stunts
Frazer Newton - Special Effects Coordinator
Maegen Sacco - Set Decoration Buyer
Yleana Nuñez - Costumer
Niahlah Hope - Stunts
Jessica S. Smith - Costume Supervisor
Califf Guzman - Stunts
Trevor E. Dickerson - Stunts
Adam Shippey - Stunts
Mitsuko Alexandra Yabe - Music Editor
Holly Watson - Assistant Art Director
Aimee Dombo - Assistant Art Director
Bobby Johanson - ADR Mixer
Steve Cascarelli - Assistant Property Master
Michael Rivera - ADR Mixer
Jack Heeren - Foley Mixer
Jodi Michelle Pynn - Stunts
Craig Pressgrove - First Assistant "A" Camera
Pedro Corcega - First Assistant "B" Camera
Gabu Camilo - Assistant Property Master
Sarah Irwin - Stunts
James Michael Miller - Visual Effects Producer
Teddy Gibbons - Second Second Assistant Director
Julian J. Delacruz - "B" Camera Operator
Bridget Fullan - Visual Effects
Caleb Townsend - Assistant Sound Editor
Riley Barnes - Stunts
Stephen Mann - Stunts
Nitasha Bhambree - Stunts
Kyle W. Brown - Stunts
Timber Kislan - Production Accountant
Dave Pope - Stunts
Anthony Baldasare - Set Dresser
Edward Gabree - Stunts
Kamen Velkovsky - Second Assistant Director
Nico Coucke - Stunts
Danny Schoch - Stunts
Akos Schenek - Stunts
James P. Harkins - Stunts
Zoe Nadel - Costumer
Ann Bartek - Art Direction
Matthew Selkirk - Digital Imaging Technician
Alyssa Alimaras - Assistant Location Manager
Leah Winkler - Production Supervisor
Nara DeMuro - Art Department Coordinator
Steven Cachie Brown - Stunts
Mohammed J. Ali - Stunts
James McEvitt - Visual Effects Producer
Gary Grill - Construction Coordinator
Courtney Colston - Costumer
Amy R. Burt - Costume Supervisor
Erin W. Nash - Visual Effects Supervisor
Drew Reade - Stunts
Eva Marie Lopez - Costumer
Jeremy Cox - Visual Effects
Timothy O'Malley - First Assistant Accountant
Matthew Rignanese - Assistant Accountant
Stefan Manz - Stunts
Whitney Thayne - Costumer
Paul Chambers - Visual Effects
Aaron Chiesa - VFX Artist
Marc Loforte - Second Assistant "A" Camera
Nicole Lambert - Producer
Shonda Hunt - VFX Artist
Daniel Rao - Visual Effects
Larry W. Brown - Assistant Art Director
Laura Snider - Costumer
Joshua Gericke - Key Hair Stylist
Rayshine Harris - Stunts
Charles S. Haskins - Stunts
Rick LeFevour Jr. - Stunts
Femi Olagoke - Stunts
Chris Resto - Stunts
Kevin Rodriguez - Stunts
Matthew Montalto - Second Assistant "B" Camera
Scott Weinstein - Production Secretary
Kati Sklut - Production Office Coordinator
Will Rimmer - Second Second Assistant Director
Jared Kaner - Payroll Accountant
Susan Therancy - Assistant Accountant
Tina Gumble - Assistant Accountant
Andrea Mendez - Assistant Accountant
Victoria Korty - Assistant Location Manager
Spencer Martin - Assistant Location Manager
Cassandra Kollmer - Costume Coordinator
Jonathan Clay - Assistant Costume Designer
Evelina Nervil - Costumer
Melanie Randolph - Costumer
Sonya Wysocki-Radenovic - Costumer
Aaron Mark Kinchen - Key Hair Stylist
Tene Wilder - Hairstylist
Jeremy Conley - Best Boy Grip
Giovanni Guzman - Lighting Technician
Eric Lutz - Lighting Technician
Bert Montanari - Grip
Mark Policicchio - Grip
Charles Bellafiore - Assistant Property Master
Julie Dubrow - Assistant Property Master
Steven T. Duke - Set Dresser
John Dwyer - Set Dresser
Yinan Estrada-Ortiz - Art Department Coordinator
Recensioner